SHOP ALL HAND BLENDERS & IMMERSION BLENDERS
Our premium hand blenders are designed to help expand your repertoire. Now soups, smoothies, sauces and salsas are just the beginning. Find the right Hand Blender for you.
What is an Immersion Hand Blender?
An immersion hand blender (also called a hand blender or a stick blender) is an ideal solution for various cooking tasks, particularly tasks with a small quantity of food. This essential kitchen appliance can be used to mix, chop, mash and whisk a variety of ingredients to make delicious food creations.

Designed to be small, lightweight, and portable, these devices offer a different experience than traditional countertop blenders. An immersion blender is often easier to use than a countertop blender, with straightforward controls and an ergonomic design that can be used with one hand.
Hand Immersion Blender Uses:
Whether you currently use an immersion blender, or you're considering getting one, it is helpful to understand all the unique ways this compact tool can be used in your kitchen. Here are several hand immersion blender uses that may come in handy.
Whisking Eggs: Whether you're making a quick breakfast or baked goods, an immersion blender is perfect for replacing a traditional whisk. You will enjoy egg yolks and egg whites that are uniformly combined.
Puréeing Sauces and Soups: Instead of reaching for the store-bought sauces or soups, consider making your own with an immersion blender. Now you can enjoy a smooth, splatter-free puree without the need for a food processor.
Making Smoothies and Milkshakes: The immersion blender was designed for whipping up frothy beverages with ease. Enjoy a creamy milkshake or use it as a smoothie blender for a fruit-filled treat. It also makes a great blender for protein shakes.
Mixing Batter: With the help of an immersion blender, you can indulge in pancakes, waffles, cakes, and more a whole lot faster. You no longer have to worry about small bits of flour left behind.
Making Whipped Cream: Now you can enjoy a homemade batch of whipped cream in only a few minutes. An immersion blender makes it easy to whip cream without the need for a stand mixer.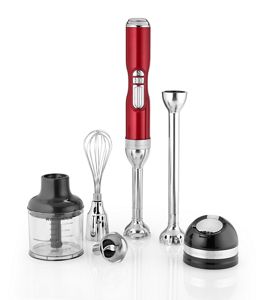 5-SPEED PRO LINE® CORDLESS HAND BLENDER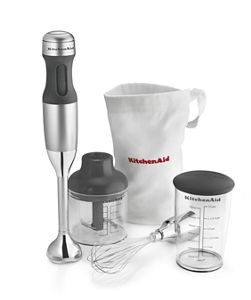 3-SPEED HAND BLENDER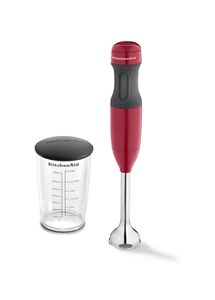 2-SPEED HAND BLENDER
Blend, Puree, Crush, Froth, Whip, and Chop
Blend , Puree, Whip, and Chop
Number of Attachments Included
Removeable 8" & 13" blending arms, Whisk attachment, 2-1/2 Cup Chopper Attachment, 3 Interchangeable Bell Blades
Removable 8" Blending Arm with Fixed S-Blade, Whisk Attachment, 2-1/2 Cup Chopper Attachment
Removable 8" Blending Arm with Fixed S-Blade