44 dBA Dishwasher in PrintShield™ Finish with FreeFlex™ Third Rack
Model: KDTM604KPS
Model: KDTM604KPS
44 dBA Dishwasher in PrintShield™ Finish with FreeFlex™ Third Rack
KDTM604KPS
Model: KDTM604KPS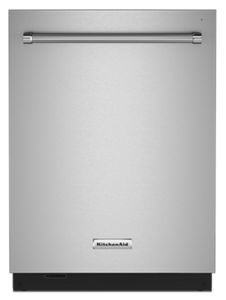 DOES IT FIT IN YOUR SPACE?
Use your camera to view in your room.
44 dBA Dishwasher in PrintShield™ Finish with FreeFlex™ Third Rack
Key Features
Advanced Clean Water Wash System
Fan-Enabled ProDry™ System
Color
Stainless Steel with PrintShield™ Finish
Extended Service Plans (Optional)
Shop with Confidence
Professional Home Delivery
Enjoy our professional in-home delivery service. Haul away service also available. Terms apply.
Terms Apply
Hassle Free & Easy Returns on Major Appliances
Not satisfied for any reason? Request a return within 5 business days of delivery for a product refund. See our return policy for details. Terms apply.
Terms Apply
Need help choosing the right appliance?
We've Got You Covered! Our Virtual Shopping Team has the answers to all your appliance-buying questions.
Contact Us
Overview
Product Overview
44 dBA Dishwasher in PrintShield™ Finish with FreeFlex™ Third Rack
Keep up with the tools you use from prep to table with this dishwasher's three racks of versatile loading possibilities and complete wash coverage. The FreeFlex™ Third Rack fits glasses, mugs, bowls, silverware and cooking tools, freeing up room below for pots, plates and mixing bowls. Advanced Clean Water Wash System circulates clean water to dishes in all three racks, and the Fan-Enabled ProDry™ System provides thorough drying, so dishes come out ready for more enjoying.
FreeFlex™ Third Rack
The largest third rack available has a deep, angled design that fits 6" glasses, mugs and bowls. It features rotating wash jets to clean items in the rack, a drying bar with tabs that help wick moisture off glasses and a removable utensil tray for cooking.
Advanced Clean Water Wash System
Uses microfiltration to continuously remove food particles during the wash and rinse cycles and circulates clean water to dishes in all three racks. This allows dirty cookware and delicate glassware to be washed together in the same load.
Fan-Enabled ProDry™ System
combines a heating element and fan for optimal drying performance. It circulates hot air around dishes after the wash cycle to give them a thorough dry. To activate, select the ProDry™ Option or Extended ProDry™ Option.
Additional Features
44 dBA
provides quiet cleaning without compromising performance, so there's no need to wait to run a wash cycle while entertaining and enjoying meals, even in open concept kitchens.
Four Stemware Holders in Middle Rack
secure wine glasses along the side of the rack to prevent them from moving around during the wash cycle.
Specifications
Height:
85.41, 33-5/8"
centimeters, inches
Width:
60.64, 23-7/8"
centimeters, inches
Depth:
67.94, 26-3/4"
centimeters, inches
Certifications
Energy Star® Qualified
ENERGY STAR® Qualified
Kosher Consumer Friendly
Yes
Prop 65
CALIFORNIA RESIDENTS ONLY - WARNING:
Cancer and Reproductive Harm -
www.P65Warnings.ca.gov
.
Dimensions
Depth
67.94 cm, 26-3/4 in
Height
85.41 cm, 33-5/8 in
Net Weight
43.09 kg, 95 lbs
Number of Place Settings
16
Width
60.64 cm, 23-7/8 in
Configuration and Overview
Controls
Automatic Temperature Controls
Yes
Control Location
Top, Hidden
Appearance
Details
Built-In Water Softener
No
Dispenser
Detergent and Rinse Aid
Hoses Included
Drain Hose
Number of Wash Levels
7.0
Rinse Aid Dispenser Level Indicator
Yes
Cycles and Options
Lower Rack
Fold-Down Tines
1 Adjustable & 1 Fold Down
Silverware Basket
Third Level Rack
Electrical
Exterior
Fingerprint Resistant
Yes
Reviews
Rated

5

out of

5
by
Princess of Parksville
from
Excellent dishwasher
We had a KitchenAid before which unfortunately broke down, needed a new motor so we decided instead to buy a new model. Very happy with this dishwasher, it cleans dishes well and the 3rd rack is awesome.
Date published: 2022-06-25
Rated

5

out of

5
by
CassyM
from
The best dishwasher I've ever owned!
I bought this several weeks ago and am so happy that I did. I undertook a lot of research after living with a truly dire dishwasher for 2yrs that barely cleaned anything! By comparison I absolutely love this model! It's quiet, has loads of space with the 3rd shelf, and everything comes out very clean. Thank you KitchenAid
Date published: 2022-06-11
Rated

5

out of

5
by
DearJane
from
Great purchase!
This is an excellent dishwasher. The three racks provide lots of space. Dishes come out spotless. It is very quiet. Also love the little hooks for holding wine glasses. The exterior is sleek and easy to keep clean and shiny.
Date published: 2022-06-08
Rated

5

out of

5
by
Norma 72
from
So Quiet
I am really enjoying my Kitchen Aid Dishwasher. The dishwashers I had before do not compare to this one. It is so quiet and efficient
Date published: 2022-03-16
Rated

5

out of

5
by
DeeV
from
Kitchen Aid 44 dBA Dishwasher
I absolutely love this dishwasher. The third rack is wonderful for those oversized spatulas, flippers, even container lids. It is also the quietest dishwasher I have ever known - smooth as silk.
Date published: 2022-02-22
Rated

5

out of

5
by
Greg1209
from
Great Dishwasher
I've been using this dishwasher now for over a month. It is the quietest dishwasher I've ever owned. The dishes come out sparkling clean every time. The third rack is an added bonus that is very handy. I recommend this KitchenAid dishwasher 100%!
Date published: 2022-02-18
Rated

5

out of

5
by
Lherscheid
from
Love IT
I have been saving and finally bought it! I already own the matching fridge and stove and have had my eye on this dishwasher for the past year. My kitchen is now complete and I love all of them. The new dishwasher is so quiet and my dishes come out squeaky clean. I love the added feature of the third drawer. I can fit so many dishes in this dishwasher, I actually run out of dishes and run it before it's even full.
Date published: 2022-02-16
Rated

5

out of

5
by
TeresaC
from
Sooo quiet
So glad we bought this dishwasher. Unbelievably quiet. We've tested it by putting the dirtiest dishes in it without rinsing. They have come out beautiful and shiny. Worth the extra dough for sure!! Go buy this….quick!!
Date published: 2022-02-02
Rated

5

out of

5
by
Contended
from
Love it really impressed
Real clean very quiet and no streaking Hopefully it performs for years to come
Date published: 2022-02-01
Rated

5

out of

5
by
Mylap55
from
Performance
C'est un super appareil. Nous l'avons depuis un mois et sommes tres satisfait. Nettoyage en profondeur et tres silencieux.
Date published: 2022-01-30
Rated

5

out of

5
by
Ramirez mom
from
Great dishwasher!!
Love the 3rd rack, I can fit so much more in the dishwasher, it's great for all the little stuff you have in the kitchen!!
Date published: 2022-01-13
Rated

5

out of

5
by
Tantan
from
Very happy with my new dishwasher!
I chose this model as the lower model was still out of stock after 6 months so I paid the extra for this model. I am very happy with it, apart from how expensive it was. It washes and dries well, the dishes aren't left with pools of water on them like my old dishwasher. The top drawer is really clever, places for mugs, glasses and extra cutlery, a really great feature.
Date published: 2022-01-06
Rated

5

out of

5
by
Davids review
from
Happy Customer!
We opted for kitchen aid appliances when renovating our kitchen and were not disappointed! The dishwasher is a huge step up from our previous one. The drying cycle guarantees everything is dry come morning! Quiet operation and efficient/flexible loading options. This is a great dishwasher for those looking for a professional and clean option that won't break the bank!
Date published: 2022-01-04
Rated

5

out of

5
by
Jcontracring
from
Amazing
Bought few months ago fantastic. Extremely quite and love the top third rack
Date published: 2021-12-23
Rated

5

out of

5
by
Anonymous
from
This dishwasher is Loaded with Dishes AND Features
This dishwasher is nothing short of incredible. It has high end style and functionality for a fraction of the cost. I plan on switching all of my appliances over to KitchenAid after owning this amazing machine. I'm a realtor ® and I view gorgeous homes everyday, I know when I see that red cap on the handle that it stands for quality. And now I know first hand!
Date published: 2021-12-17
Rated

5

out of

5
by
Cowtown Dishwasher
from
Well Featured, Hard Working, Stylish
We're a family of 5 who know how to make dirty dishes--it's an area of particular strength for us. Our previous dishwasher not only had fewer racks (2 vs. the 3 here), but tailored to meet our demands. What this does well: - stainless tub (a must have for me) - excellent glass cleaner (the 3 rack does a great job so smaller glasses, and nestles them in nicely with it's wire racks and dedicated washing tube)--but for taller items like YETI dishes, the second rack is still a great option for these taller, bulkier beverage containers without sacrificing space - SPACE! When trying to directly compare my old two racks with the lower two racks here, I still feel I have more space for dishes. And it's dynamic space, thanks to the easily adjustable 2nd rack (but truthfully, we keep it in the upper position and still have space for our longer YETI water bottles - FUNCTIONS - this thing does dry plastic. And boy howdy, do we have tupperware and lunch boxes to give it. I don't miss sweaty plastic from our old dishwasher - RACKS. This will sound petty, but the rollers on these racks fully loaded really do perform better than our previous dishwasher. I always felt, pulling the old racks out, that I was going to dump the works on the floor. Not with this--Easy Glide (or whatever it's called) is easy. Small quality of life thing, but important) APPEARANCE. This looks sharp. I quite like the pop of red on the end of the handle; and I love the texture of the handle itself. We prefer having a handle on which to hang a hand towel (our dishwasher is by the sink)--so we didn't even look at models without the handle. EASY OF INSTALL. I put this thing in during a coffee break while "working from home". I'm marginally handy, but this does not present much challenge. Most intimidating challenge for most handy home owners will be connecting the white and black wires. . . but only because folks get (rightfully) nervous around power. It's a very simple connection, and I know you can do it. The sound batten presented some challenges when I nestled the dishwasher into place, which caused me to retry about three times (it was a tight fit)--but despite my wife thinking it wouldn't fit, I did get it snuggled in. There's only about one mouse whisker room left, but it went in. . . and truthfully, without much swearing on my part. NO PLASTIC. My old dishwasher had a number of service parts made from plastic, and the heat and rigorous use meant those parts were annual or every two year consumable parts I had to hunt down. This sweet unit is stainless, stainless, stainless. Will these parts last longer? I haven't owned this unit long enough to say; but I chose it because my personal belief is that stainless parts will outlast plastic parts. SOUND. It is quiet. Our old one was pretty quiet, so I didn't notice an astounding improvement; but if you're replacing a cheaper model, you may experience the tranquility I continued to enjoy. It's quiet enough I can't hear it running and need to check the indicator light on the front panel. The only con. . . and I say this with peace and love. . . is cost. It's expensive. But you truly get what you pay for. I paid for maximum usable space, visual style, and performance--and by those measures, it is giving me a quality of life that is an improvement over my old dishwasher (which wasn't a bargain unit by any means). If you want an attractive, high-performance appliance, and are a super-used like we are (we run this every day, because it's full every day) I highly encourage you to invest in this unit. It was above our price comfort zone, but I have had zero buyers remorse.
Date published: 2021-12-15
Rated

5

out of

5
by
Little Bear
from
Amazingly quiet
Awesome dishwasher, amazingly quiet and tons of space and washing power.
Date published: 2021-12-10
Rated

5

out of

5
by
Steve 2021
from
Very quiet and great feature
Very quiet. Dishes come out super clean and dry. Third rack a great plus.
Date published: 2021-12-09
Rated

5

out of

5
by
Yog67
from
Amazing dishwasher
Absolutely great machine. Extremely quiet and washes dishes and utensils as it should. Very pleased and definitely would tell others to buy this dishwasher!!!!!
Date published: 2021-11-25
Rated

5

out of

5
by
Artsa
from
Great features
After the renovation we need to get the new dishwasher, recommend by my friend I choose KitchenAid. After a month use it, it is the good choice I made. It is very quiet you barely noticed it is working, and the result come out is good.
Date published: 2021-10-28
Rated

5

out of

5
by
SusanCan
from
So Quiet!
We bought this dishwasher about 2 months ago and I'm very happy we did. We had to replace our old one, the new one is very quiet and large. It will be great when we have the family for Christmas. Will hold lots of dishes from large bowls to pots and everything in between. Would recommend to anyone.
Date published: 2021-10-26
Rated

5

out of

5
by
Xxx25
from
Works well. Nice and quiet.
I am very happy with this dishwasher. It is quiet and efficient.
Date published: 2021-10-14
Rated

5

out of

5
by
Duke2
from
Great dishwasher
We have had a few dishwasher and always found our plastic/Tupperware would come out wet. We spent the extra money for the extra drying feature and it was defiantly worth it. Everything comes out clean and dry and absolutely love the extra third drawer for cups or even extra small baking wear
Date published: 2021-10-14
Rated

5

out of

5
by
Vin52
from
Love all the features
Previously I had a Samsung dishwasher and frankly there is no comparison. The dishes come out amazingly clean and there is lots of room
Date published: 2021-10-14
Rated

5

out of

5
by
Branden
from
Great Dishwasher
Nothing but good things to say about it. Cleans everything, dries everything, quiet, and the third rack is very functional
Date published: 2021-10-12
Rated

5

out of

5
by
Jerry H74
from
Even better than expected
I purchased this dishwasher around six months ago and have been very happy with it thus far. It is well built with easy glide drawers and the adjustable rack height is very handy. It runs super quiet and has many different settings. If there is any minor flaw is that the top buttons are easy to press when closing the door. This is very minor and I imagine all top function are like this. I think it's more of a case of training myself where to grab the fully opened door. We are also able to fit our deep square dinner plates in this dishwasher which we weren't able to in our old one. I highly recommend this dishwasher to anyone who wants quality product.
Date published: 2021-10-12
Rated

5

out of

5
by
cic81
from
Overall excellent!
We have been a KitchenAid customer for years and we are so pleased with the features of the dishwasher and most of all how quiet it is & the 3rd rack. I have recommended this model to many of my friends
Date published: 2021-10-12
Rated

5

out of

5
by
BenH
from
Very happy
Have had this for a few months. Best dishwasher we have ever owned.
Date published: 2021-10-12
Rated

5

out of

5
by
Mcduff
from
Great
Washes the dishes better than me! I would recommend to everyone
Date published: 2021-09-08
Rated

5

out of

5
by
Brwnsugar
from
Very quite
Bought this for my kitchen renovation and not only does it look great but very quite and cleans great love the 3 trays and can always fit my dishes highly recommend
Date published: 2021-07-08
y_2023, m_2, d_6, h_22
bvseo_bulk, prod_bvrr, vn_bulk_3.0.34
cp_2, bvpage2n
co_hasreviews, tv_0, tr_69
loc_en_CA, sid_KDTM604KPS, prod, sort_[SortEntry(order=RATING, direction=DESCENDING), SortEntry(order=SUBMISSION_TIME, direction=DESCENDING)]
clientName_kitchenaidbrand
bvseo_sdk, java_sdk, bvseo-4.0.0
CLOUD, getReviews, 39ms
REVIEWS, PRODUCT
Bundle summary&nbsp (&nbspitems)
If Purchased Individually*
*Offer subject to change. Limit one use per order. Valid for bundles delivered to a single Canadian address. Bundle savings based on current pricing available from KitchenAid.ca. Only valid for new orders on KitchenAid.ca.
See how we handle Returns
.